Get A Gorgeous Sunless Tan
OrganikTan - South Florida's Premier Spray Tan Studio
Fort Lauderdale's Best of 2020 Spray Tanning Studio
Voted the Premier Tanning Salon of Fort Lauderdale, OrganikTan has been serving South Florida's residents and visitors since 2010. People love OrganikTan for its Top Rated Customer Service, Affordable Pricing and Award-Winning Spray Tans.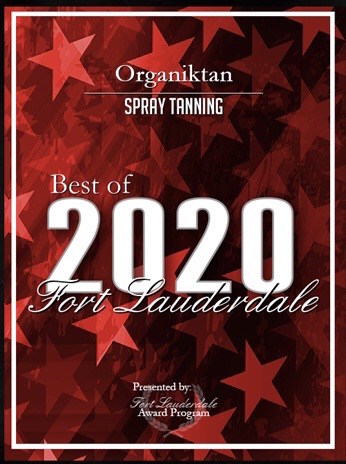 When you want a natural looking tan at a competitive price, OrganikTan is the place for you. Ask about our Special Pricing for Groups and Wedding Parties.
Portfolio of Our Tanning Clients
Thank you for all your love and support and my gorgeous tan. You're the Best!
OrganikTan is by far the BEST spray tan I have ever had. I come to Val anytime I have a photo shoot or special event. It's the only place I trust to get that perfect tan.
Frequently Asked Questions
How does a Spray Tan work?
The DHA in the solution causes the proteins in the outer layer of skin to react with the oxygen in the air resulting in a bronzing effect.
How much do Spray Tans cost?
The price of a spray tan can differ depending upon the application method and the salon, but will typically cost $25 to $50. OrganikTan 
pricing
 is available for all of our popular packages.
At the moment, it is considered the safest form of tanning over the UVA rays of tanning beds and sun exposure. For more information, refer to all of our Spray Tanning services.
How long does a Spray Tan last?
A spray tan generally lasts 5 to 7 days depending upon your activity level and your post tan skin care routine (see our 
FAQ
 for additional information).